Two years ago I had no idea what a masala is. I also had no idea that later on, I would develop a crush for Indian food, but, oh, life is so mysterious and it has its own way to let you discover things about yourself.
My first introduction to Indian food started with a Holi festival organized in Amsterdam, where, I kid you not, we bought every single dish which they were selling there and tried it.  And since I am an adept at "no pic, no proof", there you go, however by the time of the photo most of the food was already gone. There you go people, the official event, where a Romanian girl meets Indian food.
Before I go further with my story about how I got obsessed with Indian food, it is mandatory to introduce you to Sugandh who plays a significant role in this journey and of course my latest addiction. 
On her full name Sugandh Chauhan, she is a Ph.D. in the University of Twente researching about Crop lodging detection and risk mapping in the Department of Natural Science. Although she spends most of her time in the office trying to find solutions to increase the productivity of the crops, I truly believe that her talent lays in the art of cooking Indian dishes.
I met her in the celebration of Holi from our university in the same year, but our true and long-lasting friendship started when she asked me to perform together with her an Indian dance.  Since all the performance involved plenty of rehearsal hours, you can imagine that we would easily get tired but most of all, hungry. And that was the point where everything changed, with her simple invitation to cook something for us.
Her passion for cooking made me going crazy about Masala Chole, Butter Chicken, Malai Paneer and several other dishes of course, but those that I just mentioned are definitely my favorites. Everything that she made for me was so uniquely delicious that it would make me think about that food for even one week further. I can recall all the tastes in my head today and still salivate at the memory.
These evenings, where she is cooking for us, gave me the opportunity not to just discover the food and the culture of India, but also get introduced to other people and other cultures, such as Bulgarian, Iranian, Arabic and of course Dutch. So evenings, when we gather together, have dinner, sharing stories and creating memories, are now a routine.
Nowadays, spices are mandatory even in my usual food. Honestly, one cannot simply go back to ordinary food once the masalas are discovered. I've been eating so much spicy food, that even my tolerance to spicy food has increased a lot, and when trying my mom's food I feel there's something missing.
I did try to go to the restaurants here in the city, but everywhere I went I got this feeling that the food is more targeted to the Dutch people and it doesn't have the, how I call it, Sugandh's level of spiciness. Moreover, it's not just her food, it's also her, the passion that she puts when she's cooking, her stories about the meaning of the food she makes and how she learned it from her mom. It's like a secret recipe that she shares with the world through her food. She's quite secretive with her food though, but I would be too if I could cook that amazing as she does :)).
Happily, Sugandh always saves me. My last dinner consisted of her cooking Chicken  Biryani, which turned out to be mouth-watering and also eye candy. And I couldn't be happier.
This time I managed to convince her to share her recipe, just in case there is someone out there willing to experience this amazing food. You can check her explaining the whole process HERE. And as we like to say " The only thing that I like better than talking about food is eating", while you're dreaming of spices and Indian food, I will go back to enjoying my Indian food.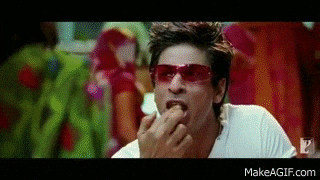 Basically me, after all these years where she has cooked for me…
Don't spend time thinking, just go and try it for yourself. And next time, remember that next to studying abroad, food is also on the table 😉